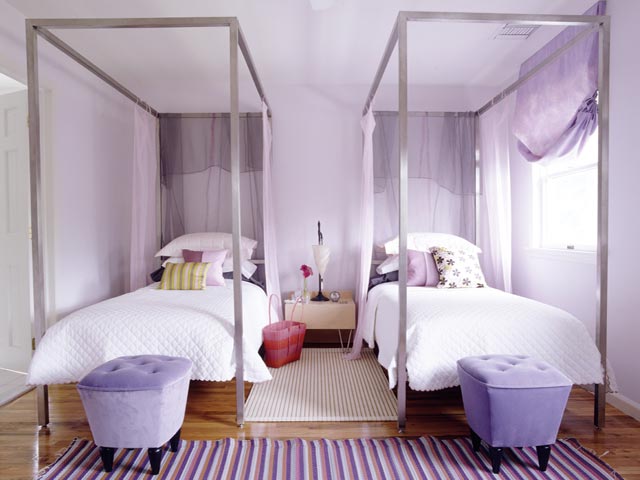 There are numerous factors to consider in order to make your daughter's room a little paradise for her. A lavender bedroom for a girl is always the right move! This bedroom features two twin beds with a metallic silver bed frame. The designer added fun vibrant throw pillows and white duvets for a clean look. More purple hues! Both of the twin beds have a purple ottoman layered over a purple-striped area rug.
The color purple is a great alternative for a girl's bedroom. Sometimes a bright Barbie pink is too loud. Purple adds elegance and sophistication to a space.
LOOK OF THE DAY: FLIRTY WITH A TOUCH OF DARING – PLEASANTLY PURPLE!
All of these images say flirty with a touch of daring to me. Don't know if it is the color or the style of these rooms and this cute little dress ensemble I pulled together…but they do say flirty and daring…in a stylish sort of way. Don't know exactly what that flirty/daring thing means…maybe it is just a feeling!
Do you like the lavender girl bedroom? Do you like purple interiors? What do these images say to you?
xo
Coco
Photos: Hamilton Design; William Waldron; Amanda Nisbet