New COCOCOZY embroidered pillows in shades of blue! (above)
I am so thrilled to introduce you to our latest COCOCOZY partnership – a line of 20 fantastic embroidered pillows!  COCOCOZY for Peking Handicraft pillows debut this week at market in Atlanta!  Wooohooo. Yippeee! Yay!!!!
Peking Handicraft makes renowned designer Trina Turk's collection of oh so popular embroidered pillows and now they are making COCOCOZY's!
These COCOCOZY embroidered pillows will start shipping to retailers this month and hopefully will be available to you in a store or online by August!  The 20 embroidered pillows come in a variety of colorways including navy, light blue, sage, turquoise, red, orange, yellow, black and gray.  We did 6 different patterns!
This week marks the beginning of the summer Atlanta International Home Furnishings Market and COCOCOZY is all over market this year!  For those of you who do not know what "market" is…essentially it is a trade show for home furnishings.  Every July and also January, Atlanta's America's Mart becomes the destination for all things to do with furniture, textiles, bedding and home accessories.  The market is officially only open to press, designers, and stores (major retailers, boutiques and more)…it is the time of year when stores do all of their buying of product and stock for the fall winter.
All of our different COCOCOZY home furnishings collections will also be on display in different showrooms in Atlanta this week! So exciting.  I'll be running around market from showroom to showroom, seeing all of the different COCOCOZY goodies on full display.
COCOCOZY collaborations/partnerships are all showing in Atlanta at market in the same building (240 Peachtree Street, Atlanta, GA):
COCOCOZY for Capel Rugs (Indo Tibetan hand knotted woold rugs) – Capel Rugs Showroom, Americas Mart Building 1 6th floor
COCOCOZY for Peking Handicraft (embroidered pillows) – Peking Handicraft Showroom, Building 1 Amercas Mart 10th floor
In Atlanta at the Americas Mart building, we are also showing our own COCOCOZY Collection of luxury custom made pillows, graphic cotton knit reversible throws, lucite trays, candles and lacquer boxes at the Christian Mosso Showroom in Building 1 on the 9th floor.  I'll be there Friday and Saturday!!!
I really love the black on natural linen and the taupe/tan collections below.  I think they would look great mixed and matched on almost any color living room sofa!  Graphic neutrals.
New COCOCOZY Embroidered Pillows in red! (above)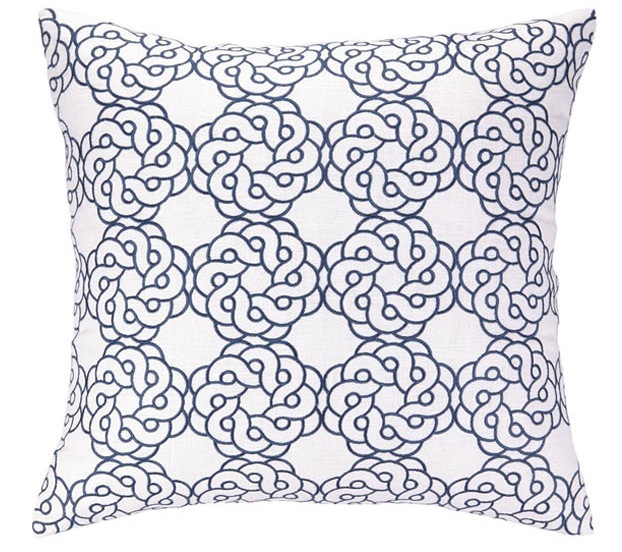 This Maroc embroidered pillow in navy blue is one of my faves from the embroidered collection. (above)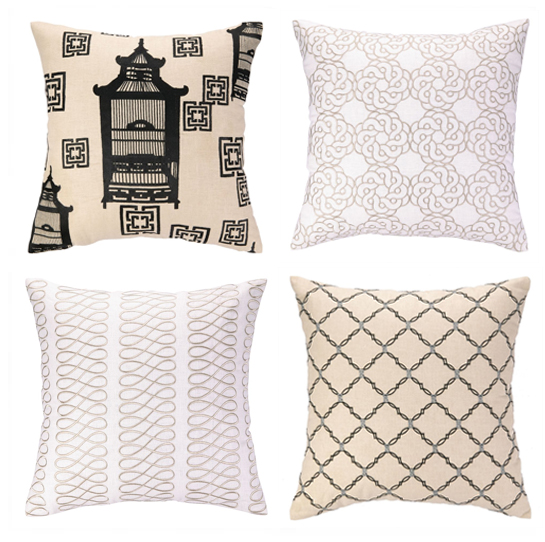 COCOCOZY Embroidered Pillows in taupe and black (above)
Please make sure to stop by and see the collections at market if you are going to be in Atlanta.  I'll be buzzing about on Friday and Saturday!  I would love to say hi!
Happy Thursday!
xo
Coco
P.S.  MY "DREAM SMALL" GUEST POST ON INTERIOR COLLECTIVE – Please head over to Interior Collective blog to check out my guest post on designing small spaces.  I share some key tips on how to decorate a small space effectively.  I really love the kitchen featured in the piece and my favorite tip might help you figure out your living room design!  Browse on over to read my secrets to small space decorating! Would love to hear your secrets too!
P.P.S.  I take the red eye out to Atlanta tonight…don't have a thing packed and got no sleep last night (up until 3:30a this morning)!  Oy va voy.
P.P.P.S.  Oh…I know some might be wondering how the collaboration with Peking came about!  I've known about Peking Handicraft for years (they also manufacture my design crush designer Jonathan Adler's needlepoint pillows).  Last year at market in Atlanta, one half hour before I was heading to the airport to leave town, I basically walked into their showroom with my COCOCOZY catalog in hand and said I would like to do a license deal with them and have them make and distribute COCOCOZY embroidered pillows to retailers around the country.  I know they were a bit taken aback by my brazen approach but about 4 months later we were signing a license deal!  Tah dah! Now, here we are…!!!
P.P.P.P.S.  Can one function on just 6-7 hours of sleep over the course of 2 days?  Help!
P.P.P.P.P.S.  COCOCOZY VP of Operations CM is already in Atlanta.  He'll be over at the Christian Mosso Showroom in AmericasMart Building 1, 9th floor…showing off our new lucite trays and a new offering we have for our throw collection!  Please go by and see him if you can today!