White Home Library with Vibrant Book Decor
White bookshelves are crisp and clean. They will brighten up any wall no matter how big or small. House of Jade Interiors used an array of books to add pops of colors to the space. They organized the books by color which gives the room the professional and polished look that we all want in our own home!
Natural Light Home Library Design Idea
A modern home office with a unique curved ceiling that bounces a ton of natural light. Interior design firm, Studio Ashby, added a zebra armchair for a modern design.
Interior design by Studio Ashby
Elegant Parisian Library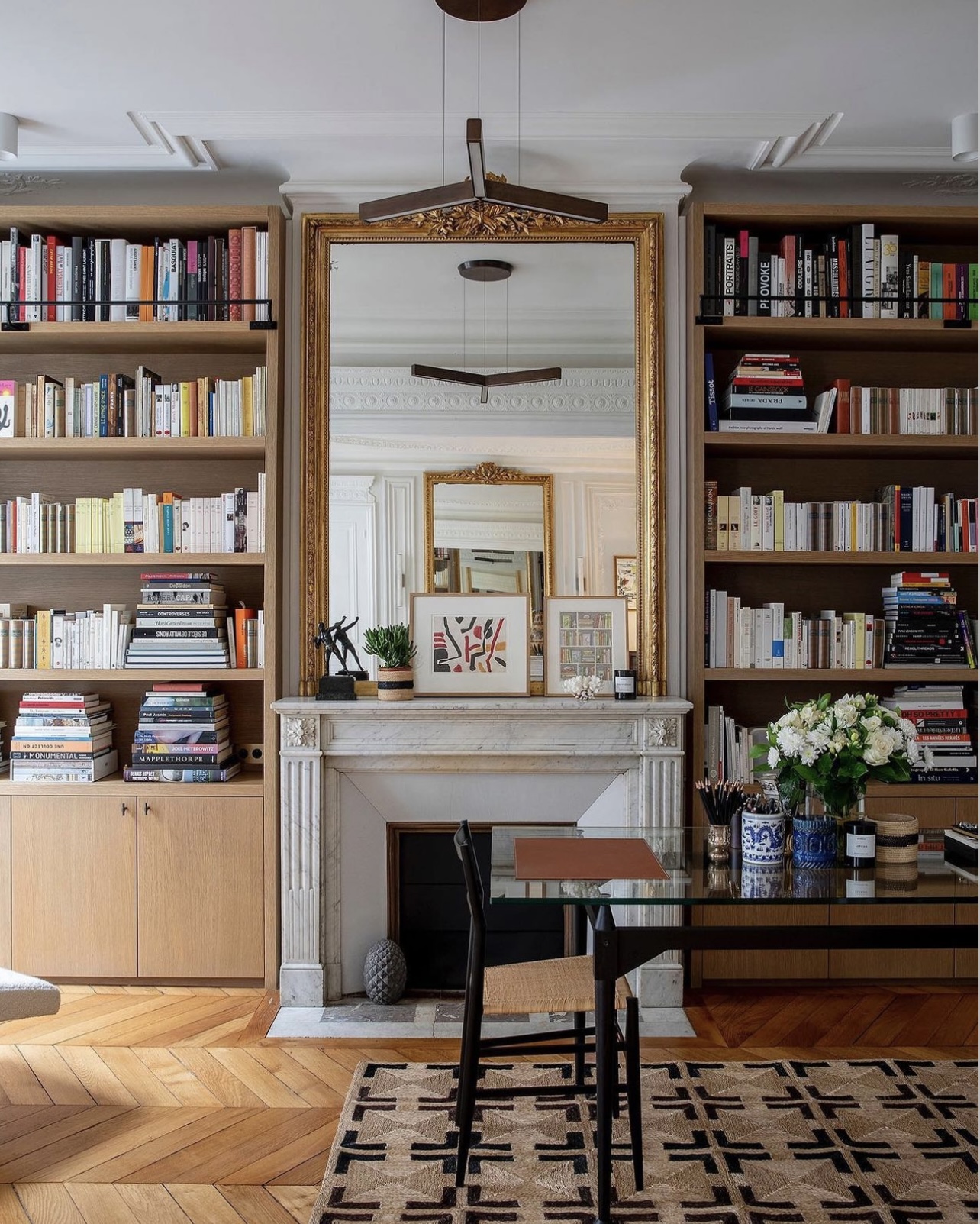 There's a particular je ne sais quoi to Parisian home decor from timeless furniture to elegant home decor. This home library design features a large gold mirror over a fireplace with a tall wooden bookshelf on both sides. Parisian interiors are the best, and the French have mastered the art of styling modern styles with antiques and vintage pieces.
Château Home Library
Château du Champ de Bataille in Normandy features an elegant library and study The Château was completely restored as a classic French-style study room.
Tiny Green Home Office
Inside Katie Glaister's 1930s house in south-west London features an earthy green tiny home office. The study's walls and shelves are painted in Edward Bulmer's archive color 'Brunswick Green.' The tiny home office incorporates various shelf sizes and heights without appearing small and cramped.
Bathroom Library in Rome
The best of both worlds! House & Garden UK columnist Fiona McKenzie Johnston designed an enchanting bathroom with its own library. Sometimes we do our best reading from the comfort of our own bathroom. The wood open shelving creates a classic look and complements the charming vibe of her Roman home.
Dining Room and Library Combo
A rich and sophisticated stone-blue dining room with a twist. The designer added a built-in bookcase as a colorful backdrop for brass details. The floor-to-ceiling 'Stone Blue" wall color by Farrow & Ball is even covering the custom shelving for a seamless look to the dining room design.
How To Create A Home Library?
To create a beautiful home library requires three design features: book storage, artificial or natural lighting, and comfortable seating.
Book Storage
Book storage and creative shelving can extend your home library, but it also has an impact on the functionality of the room. There are two main types of bookshelves for your home library to choose from: built-in and freestanding. Built-in shelving units are permanent fittings that are attached to the walls of the home. Freestanding shelving is a temporary and mobile shelving unit that is usually in the form of a bookshelf or cabinet that is put against a wall.
Artificial or Natural Lighting
You need a combination of different types of lighting for your home library. The three most important for home offices and libraries are task lighting, accent lighting, and ambient lighting. That includes desk lamps and floor lamps. Natural lighting, on the other hand, refers to the light that a room receives from the sun. So large windows or even skylights can help improve the ambiance of the space.
Comfortable Seating
Comfortability is a priority for every home library design. A tiny built-in reading nook, cozy loveseat, or bench is an excellent way to add seats to your home library. Even existing furniture in your home, such as a chaise lounge or accent chair, can transform any room into a cozy sanctuary.