Charming exposed brick wall in a Los Angeles living room (above)
My friend A.Ro. sent me some photos awhile back of the adorable NYC apartment she moved into. The apartment is perfect and what makes it even better is that it has great exposed brick walls.  I love the look of exposed brick – charming, so full of character.
Found these photos of painted brick walls as well…got me thinking…to paint or not to paint exposed brick?  That is the question.  If you had a brick wall in your place…would you leave it exposed or paint it?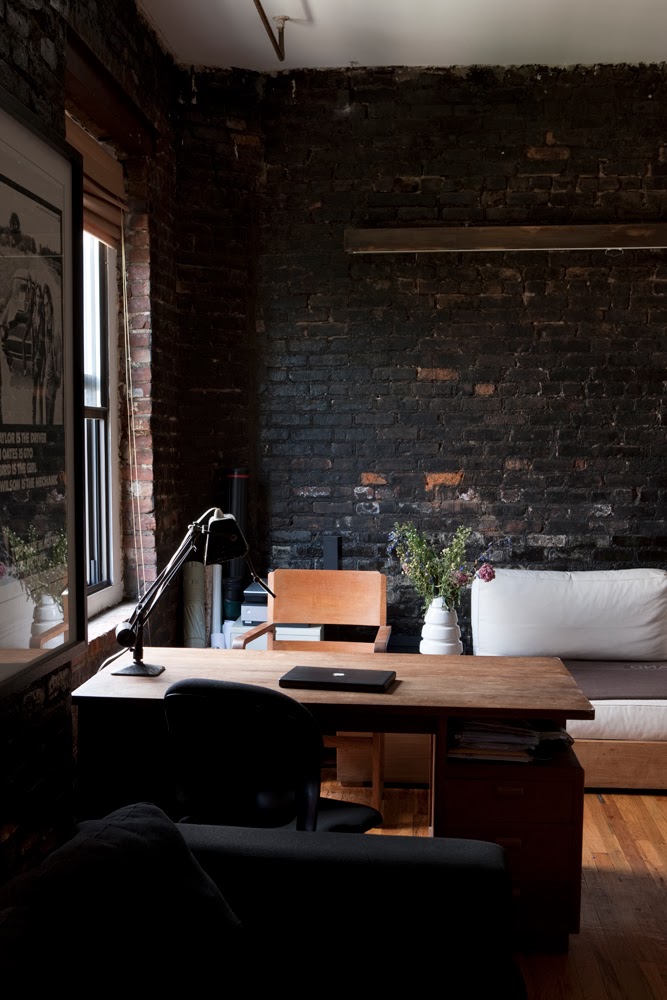 Black brick wall in a small loft apartment (above)
A large loft apartment is made to look sleek and modern with a white brick wall. (above)
I think I like a white brick wall or the classic exposed brick the best.  You?
Happy Tuesday!
xo
Coco
P.S. COCOCOZY Flash Sale – Our Chain cotton pillow below is 35% off on our new COCOCOZY Flash Sale page today.  Only a few of these pillows available at a super reduced price with free shipping.  If you didn't hear the Valentine's Day announcement about our Flash Sale page…every week I'll choose a pillow style (limited number) or items from the COCOCOZY Collection and put them on super duper sale.  This is new.  Trying it out for a bit.  So make sure to check in to see what is on sale!
P.P.S.  Spent a fantastic long weekend in Ojai with my lovely guy TE.  He took me there for a spa getaway.  Follow along on COCOCOZY Instagram to see more of those personal photos from our trip!  I also share a few of my favorite Ojai spots later in the week here on the blog.