Am obsessed with sisal, sea grass, grass cloth and more lately. It could be a phase I am going through.
Imagine my delight when SA who does publicity for House Beautiful sent me these photos of the Hollywood Hills home belonging to interior designer Tobi Tobin.
These photos are from House Beautiful's May 2013 issue hitting stands on April 23rd.
I love the sisal rugs on floors throughout, grass cloth wallpaper in the foyer, the sea grass runner with black trim on the stairs. Natural woven fibers…I like this look..especially as we approach summer.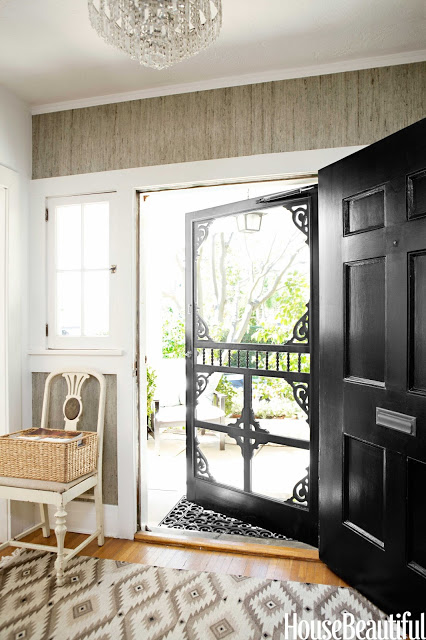 Foyer with glossy black front door. (above)
Sisal runner with black trim on the stairs. (above)
Rustic modern dining room with natural fiber sea grass rug, Parsons chairs, capiz shell chandelier and a reclaimed wood dining table make for a nice place to dine and entertain (above)
A sparkling chandelier, white counters and glossy black kitchen cabinets! (above)
An outdoor living room and fireplace surrounded by trees – the woven furniture and gray pillows blend will with the garden setting. (above)
What do you think of this Hollywood Hills home? Do you like the use of natural fibers?
Happy Monday!
xo
Coco
P.S. Fab weekend in San Francisco. TE took this photo below on one of our long walks with his so nice sister -in-law SE and brother ME. San Francisco is gorgeous! Ate at some fantastic restaurants and shopped around town. A nice weekend getaway.
TE took this beautiful photo as we were walking near the water in San Fran this weekend.(above)