So as I mentioned the other day…went to a lovely dinner at the home of chic interior designer Alison Blumenfeld of Blumenfeld Interiors.  I've known Alison for a few years now and absolutely love her sense of style.
As most of you know…I don't really have guest posts here on the blog…I've made the exception on several occasions when Alison says she has post in mind.
Without further ado, here's today's guest post from Alison Blumenfeld:
***
START OF GUEST POST BY ALISON BLUMENFELD
WOVEN GOODNESS – THE LATEST DESIGN TREND
Trends build. I remember a couple years ago seeing a rope covered console and chairs in the book Parisian Interiors, and months later a snippet in a magazine showing a rope covered daybed and table, and maybe a year later seeing a collection of rope tables, chairs, and consoles at Holly Hunt. The Holly Hunt collection, this kitchen above and below, and the daybed were all created by Christian Astuguevieille, a French designer who, among other things, worked for Comme Des Garcons and Nina Ricci before embarking on this collection.
A rope mirror adds texture and visual interest to this living room's neutral palette. (above)
Of course now obsessed with Christian Astuguevieille, I began to see woven delights everywhere…caning, wicker, rattan. It was there all along. I love the depth it adds to a room. It can make a modern room feel less sterile, a formal room more approachable, and a traditional room more interesting. I love taking it out of the garden and into the home, juxtaposed with upholstered pieces, beautiful casework, art, and rugs. In an age where interiors have felt very slick, a bit of handy work feels very welcome.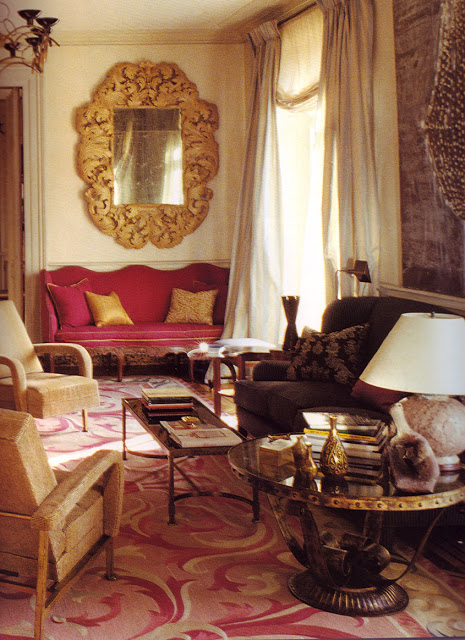 Two rope arm chairs work in even a more polished formal setting. (above)
I have wanted to write about rope and wicker for awhile, but I am so glad I waiting because at last this trend is just starting to emerge in the affordable market. I am hopeful that the trend continues, but in the meantime here are some wonderful pieces currently at market.
This amazing rope chandelier by Jamie Young…
This chic console table from Mecox Gardens…
This wonderful vintage woven chair on 1st Dibs…
Incredible porcelain vases also on 1st Dibs…
A rustic barstool from Anthropologie…
So, if this trend continues how will you embrace it?
END OF GUEST POST BY ALISON BLUMENFELD
***
Thank you Alison for this amazing guest post!  I like this woven trend.  I wouldn't mind some cute coffee table accessories in the form of rope trays or boxes to add to my space!
Happy Thursday!
xo
Coco
P.S.  I went to a fab dinner last night at Mr. Chow with very nice JG, AG, KG and LG who are all visiting from out of town.  Sisters KG and LG are in college but are already entrepreneurs having started a fantastic bracelet business called Stoney Clover. Stars like Justin Bieber, Taylor Swift, Reese Witherspoon, Anna Lynne McCord, the guy who is the teacher on Glee and many more have worn the Stoney Clover bracelets. The best part is that 25% of the company's sales goes to charity.  Admire these gals so much!  So nice seeing you all last night!  Thank you for dinner! xo
Images courtesy of Vogue Living Houses, Gardens, People; Peterdunham.com; Jacques Grange Interiors; and Parisian Interiors.