Funny story – I didn't even realize I was saving images of pink interiors until a friend told me she wanted to paint her bedroom walls pink and red. At first, I was a bit shocked – then realized you know that's not a crazy idea. That could end up being incredibly beautiful. Shortly after, I visited a close friend who had just purchased a pink couch! I then remembered all of the Instagram images of pink interiors I had scrolled past and saved. 
While I could never see myself with an entirely pink room – I will keep appreciating other's pink designs!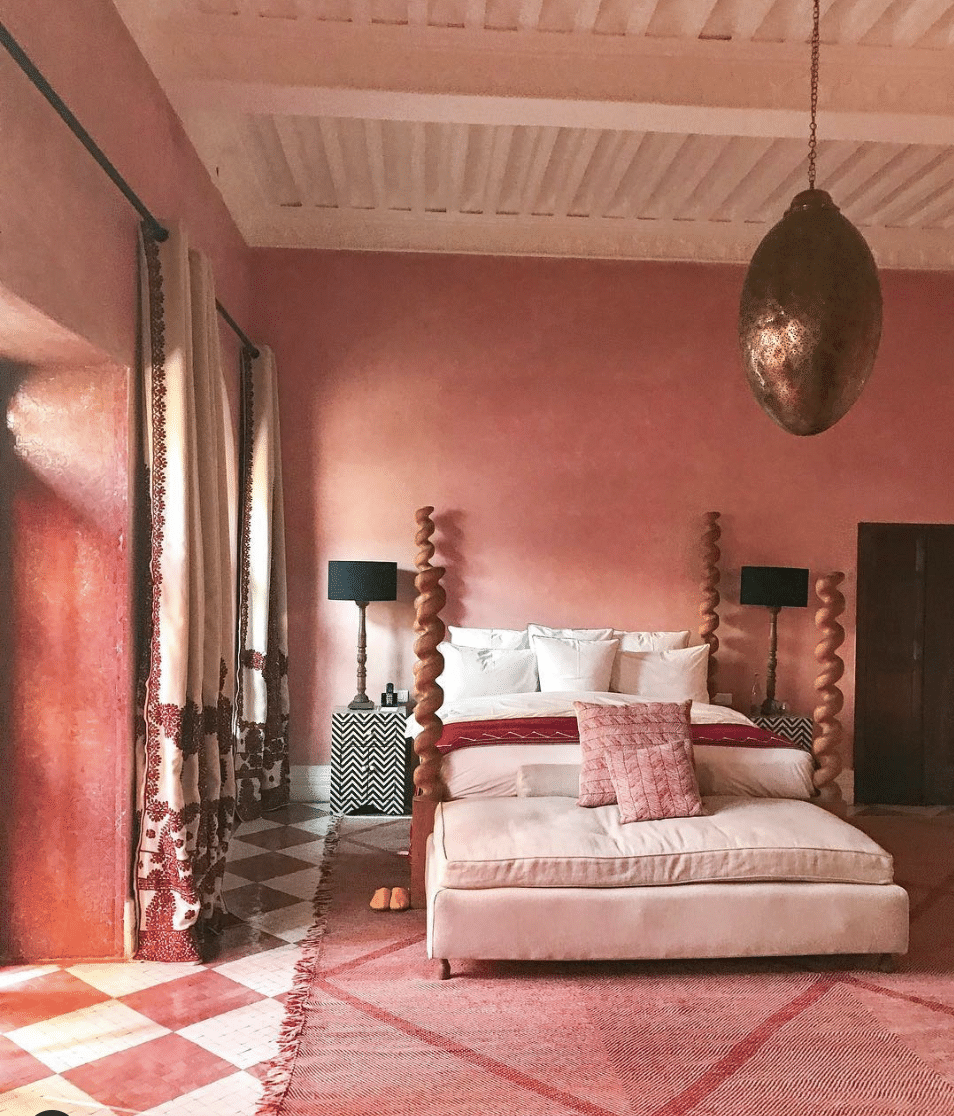 This room has so much going on while being artfully designed. Instead of chaos, the multiple shades of pink create an oasis. The pink walls, flooring, curtains, rug, pillow, ottoman, and blankets work together seamlessly. If you are looking for a multi-pink room this is a great inspiration image.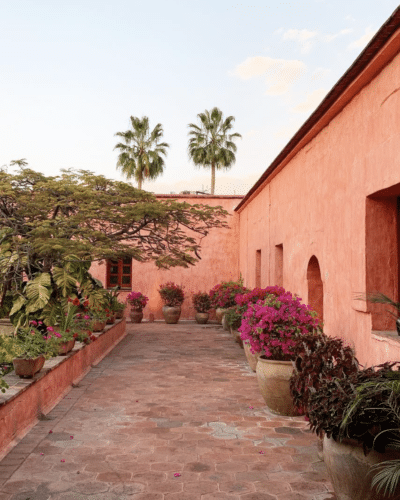 The image on the left showcases a much simpler pink bedroom. This design is clean, cozy, and homey. The light pink walls and bedding mixed with the dark berry pillows are beautifully done. Throw pillows can instantly change the look of a bedroom! The image on the right has such an intense color relationship. The flowers pop out next to the coral exterior. 
This design is much closer to the COCOCOZY style. The contrast between the white and the dark pink is beautiful. Without being over the top, the pink in this interior shines and takes the stage. Anyone else want to run and buy pink bedding this minute? Wait till the end for my favorite bedding choices. 
While these two pink living spaces are completely different, I'm equal interested in both. I love the interaction of the pink wall, plants, and nude pink sofa in the left image. The corner of this space is stunning and elegant. The photo on the right has a lot more going on and is a bit darker. This space is much more mysterious. The contrast between the walls and couch is everything! I may just have to go run buy a velvet couch after this. 
SHOP MY PICKS FOR PINK HOME DECOR
While you might be tempted to paint all of your bedroom walls pink and install pink flooring after this post, it's way easier to test out your pink interior fever with a few new items. It's super simple to start out with updating your bedding, curtains, rugs, or other small items before fulling committing to a total room makeover. If those items are working it may be time to add in a piece of pink furniture like a chair, couch, or ottoman.