All photos in this post by Coco of Cococozy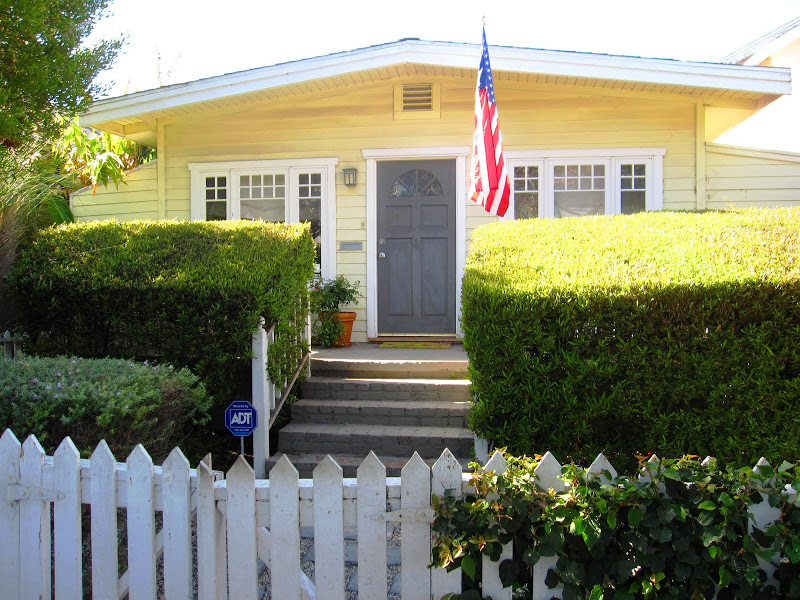 This adorable Venice Beach Craftsman cottage is nestled behind a white picket fence and well manicured hedges. The exterior is painted a wonderful bright yellow color with white trim and a shiny grey door. (above)
Loving this quaint cute craftsman bungalow in Venice Beach, California. My good friend Charlotte Broussard lives here. Her warm and stylish design and decor touches make this house a wonderfully cozy and inviting home – filled with the perfect blend of traditional and eclectic treasures, vintage finds, cherished antiques and designer home furnishings.
By day, Charlotte is a veterinarian. She's saving lives of dog, birds, hamsters, other pets and cats every day(note…I put cats last because I am not huge cat fan). On nights and weekends, I consider Charlotte to be a design aficionado – a decor "natural". She's got the "it" factor when it comes to decorating a home. She knows design and decor through and through. (The other day we were at a design tour and I amused myself by quizzing Charlotte on architectural and design facts… she had answers to all the questions!)
Charlotte and her family are from Houston and originally from parts of Louisiana – true Southerners. She gets her love for design and her knack for structuring delightful spaces from her mother and grandmother…lots of inherited pieces of furniture and home accessories grace her home. She has such a good eye…I wonder if there is such a thing as a design gene or a design chromosome? (Huh…could be something to invent. Instead of Botox, people could go to their doctors for injections of design genes…not a bad idea…right?)
So, I have been threatening Charlotte for months that I would come by and photograph her place. I noticed a certain dread in her eye whenever she was having a party and she would see me whip out my camera – she knew at any moment I might srart doing an editorial "shoot". I think she, like all of my other victims, was a just a wee bit wary of me photographing her home for some strange design blog (I still do not like the word "blog"…makes me feel like a total geek with no life…hmmmmm…will stop now for fear that if I write about the way the word "blog" makes me feel, this will soon become my destiny…yikes!). So after months of hounding my friend the vet (pun intended), I think she finally thought the best thing to do would be to let me in with a camera…that way she could quiet the white noise of me constantly asking (errr pleading) to take pictures.
So thanks to Charlotte, I have another lovely SEE THIS HOUSE to share with you!

A grey painted Adirondack love seat sits on the home's front porch…a great place to sun and sneak a peek at the interesting beach passersby. (above)
Bright orange floral pillows! (above)

Furniture is evenly and precisely spaced in the cottage's bright living room. Walls are painted one of Charlotte's favorite colors – seafoam blue.(above)

Turquoise blue piping and bright colored pillows brighten up a rich chocolate brown slipcovered sofa (above)

A bright orange throw with pompoms from Calyspo Home adds a burst of color and bit of whimsy to the brown living room sofa. (above)
Charlotte loves these decorative flange pillows that are covered in a 100% linen Asian inspired fabric –
Schumacher's Chiang Mai Dragon
– because of the bright colors and the dragon hidden in the design. (above)
Practical style is the order of the day when it comes to these living room armchairs. Charlotte owns two beagles, Maggie and Anabelle, who love to commandeer comfy seating. So, cleverly, Charlotte covered these armchairs in a chic dotted brown and white fabric that is a durable poly blend…it adds to the room's design but also makes the chairs extremely dog friendly! (above and below)

Charlotte had a lighting "guy" transform two blue vases into classic looking table lamps. (above)
Jonathan Adler eat your heart out…Charlotte found these two cheery orange kidney shaped decorative dishes at a vintage sale for under $100. (above)

This wood antique tall four drawer dresser was imported to the Los Angeles area from Houston where Charlotte made this find at an antiques shop – it provides storage and more elegant classic style to the living room design. (above)
Detail of the pressed metal key holes ornament on each drawer of the dresser. (above)

Two green wood topiaries are the perfect accent on the antique dresser. (above)

A built-in bookshelf stores many of Charlotte's prized inherited accessories…and some books too! (above)

Charlotte brought this dark stained wood antique dining set from Houston – the perfect size table and chairs for this cottage size dining area! (above)
Carved details in the chair spindles and the table legs make this antique dining table and chair combination particularly special. (above and below)

Charlotte didn't have to go too far from home for this delightful lighting find…this adorable flower shaped yellow Murano glass pendant light comes from Ponte Vecchio on Montana Avenue right in Santa Monica, California. (above)
A bit of design that came with the house – a wonderful rectangular stained glass window overlooks the home's dining room. (above)

This is not your ordinary galley style kitchen…open shelves, a wonderful striped runner on the floor and lots of vintage decorative accents make this space the heart of the home. (above)

The colorful striped rug draws guests and visitors into inviting cooking space.(above)

Charlotte's prize possession… a piece of real antique McCoy pottery – a lovely red jar in the shape of a strawberry. This brand of pottery was produced at the end of the 19th century and beginning of the 20th century here in the U.S. and the pieces are considered valuable collector's items.(above)
Open wood shelves make the kitchen feel larger than it is…and they also allow Charlotte to display many of her antique finds and ceramic dishware. (above)

Charlotte found this charming mustard yellow metal hat box on one of her trips to Europe. (above)

Charlotte started collecting these blue seltzer bottles when she lived in New York City. She found her first at a street fair in SOHO. Now her kitchen shelves play host to her impressive collection of these fantastic vintage glass pieces. (above)

Now, through the kitchen and out the back door, to Charlotte's favorite part of the house…her lush and well cared for garden (love the crushed gravel on the ground)! (above)
Charlotte and friend CJ stand on the home's deck and admire the outdoor space and all of the amazing plants on a gorgeous California sunny day. (above)
A turquoise blue rattan dining set with a round table, a bench and two chairs, adds the perfect infusion of bold color to the deck space…a perfect place for a morning cup of coffee (or tea) or for dining alfresco. (above and below)

Moroccan style metal lanterns hang from the deck and the trees…providing glowing warm light for nighttime entertaining. (above)
What would an outdoor space be without some great outdoor chairs surrounding a built-in fire pit? (above)

Charlotte's cute pooches Maggie and Anabelle strike stylish poses as they take a rest on the back deck.(above)

Charlotte Broussard at work in her designer garden. (above)
Charlotte! Thank you…thank you…thanks…and many thanks for letting me COCOCOZY about your fabulously styled home. I absolutely love it!
All photos in this post by Coco of Cococozy