If you follow me on Instagram or have been reading the blog for the past week, you know I just got back from a fabulous vacation in the Dominican Republic. I loved everything I saw there while staying at the Playa Grande Beach Club, a small island boutique hotel with a barefoot luxury vibe.
Full of inspiration, just last weekend, days after returning from my trip, I decided to do some Spring outdoor entertaining with a little help from Target and their new #TargetStyle spring collection. A Sunday afternoon luncheon for a few of my neighbors sounded like a good idea to me. I was going for a Caribbean global beat with some pretty items that reminded me of my island vacation.
My theme for my table was all about using textures and creating layers like the decor I had seen at the hotel.  I also used a natural ocean blue and green color palette straight from the DR.
I found so many cute things on my shopping trip to Target. When I saw the green glass vase, it immediately reminded me of the colors from the Dominican.  I knew I would use it as a pitcher and then the blue stoneware bowls and plates reminded me of the shades of the ocean.  I used some crystal glassware that I bought in South Carolina a few years back.  The texture on the glass went well with the theme.
Then the layering of textures and patterns began. I used two linen runners in different colors over a patterned tablecloth. Then I layered in a great wood tray that I found while shopping at Target.
Love the stone dishes in bold blue colors. I was doing a light lunch with a kale salad, fruit salad, finger sandwiches, tomato focaccia and some charcuterie. The bowls were for the fruit salad.
I made the flower arrangement myself! They used a lot of ginger on the tables for the flowers at the resort. I decided to improvise with pink Proteas and yellow Pincushions. Flowers aren't perfect but I think that adds a little charm to the table (at least I hope it did!!!).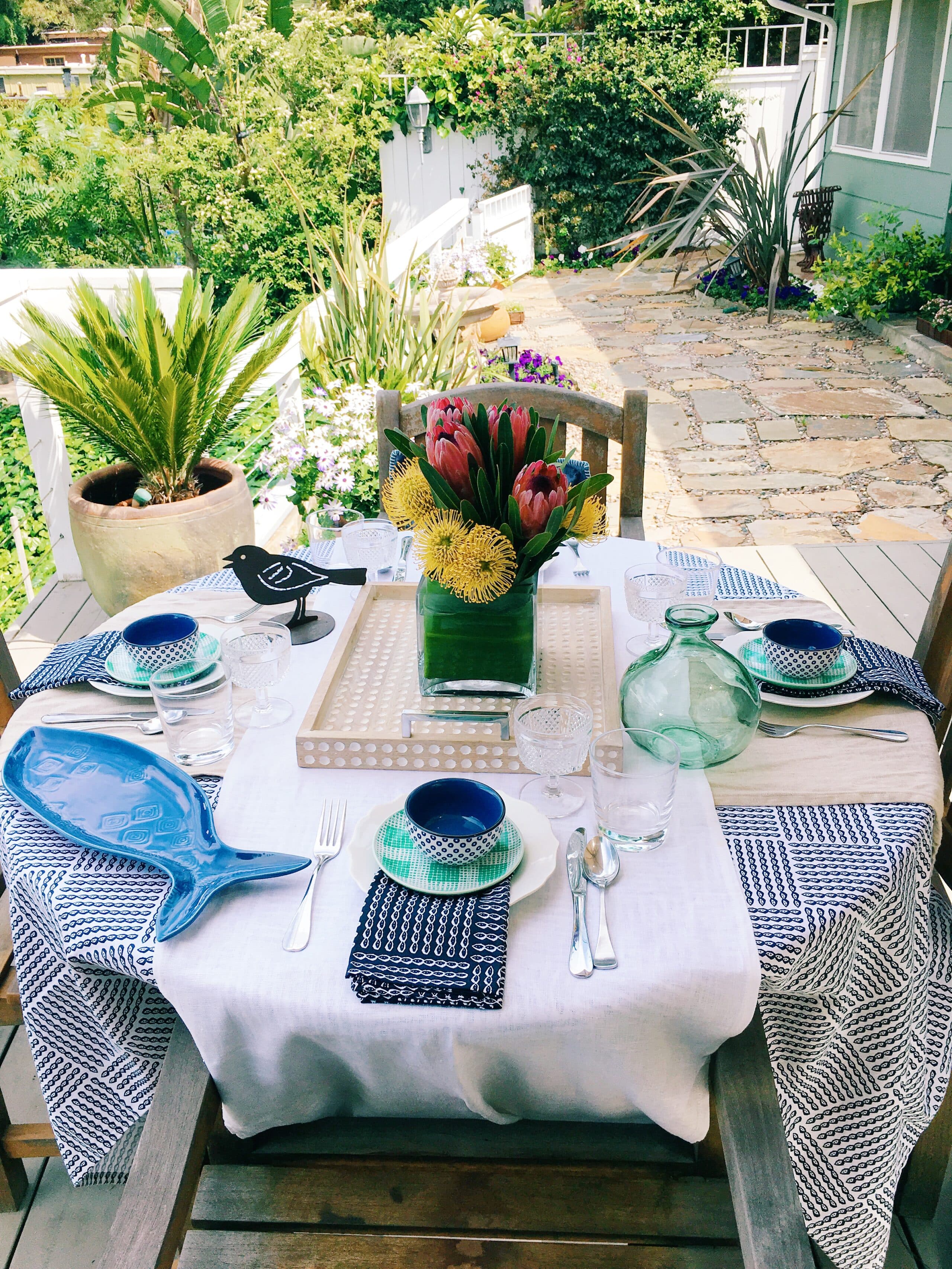 Spring Outdoor Entertaining Tips
1.Layer – Create an interesting table by layering items in coordinating colors. Don't be afraid to layer plates and table linens. Don't over do it. For me the rule of thumb would be no more than three layers of linens and three layers of plates.
2. Use a Tray – I love using a tray as the base of a centerpiece. In this case I found a great carved wood tray for the center of the table. The floral arrangement looked so good on it. By using a tray at the center of the table, you are creating a focal point and it makes your flower centerpiece seem more substantial.
3. DIY – To personalize your table, add in something besides the food that you made yourself. I made my own floral arrangement. You might make some napkin rings out of ribbon or hand write out some cute name cards for guests. This will personalize your table and make guests feel like they are in an inviting cozy home.
Then I was ready for this afternoon Spring outdoor luncheon to get started!!!
My shopping list:
Carved Wood Tray
Small Green Round Vase
Blue Fish Stoneware Serving Platter
Turquoise Appetizer Plates
Stoneware Blue Dots Bowls
Metal Bird
Blue Outdoor Pillows
Hope this inspires you to do a little outdoor entertaining!  I am planning my next gathering…stay tuned!
xo
Coco
This post is brought to you by TargetStyle. Shop the new Home collection in stores and online.